Ladies and gentlemen, it happened. Tonight I took a plunge down the rabbit hole and hung up the very first picture in the living room. I've had this weird aversion to hanging anything on the walls throughout the house. I was forced to get over that in order to work in my office, as there are certain things I need hung up (like a calendar). So I hammered the first nails into our new, pristine walls. It was scary.
Since that initial foray, I've been thinking more about what to put up downstairs and in our bedroom. Our main problem right now is that we don't particularly like any of the framed art we have. When we were renting, I had no problem sticking something up on every available inch of surface just to cover up the walls. Because the rooms weren't mine, and usually painted white or a color I didn't choose, so pictures were a way to make it my own. But now this house
is
my own, so I'm not ready to just throw up whatever onto the walls all willy nilly. This takes thought.
So it's very fitting that the first thing to go up is a print that means the most to me. It's a page from Alice in Wonderland, which if you know a single thing about me you'll know is my favorite thing ever. When I was living in London, my sister came to visit and we took a day trip to Oxford. There we stopped into Alice's Shop, a former candy shop that the real Alice that Lewis Carroll based the story on frequented.
I picked up a print there and it traveled all the way home with me. It's a little worn and wrinkled, which I love, because it's been on a journey. The frame that I've had it in for a while didn't quite fit, and it really deserved to be properly matted.
Browsing Target this afternoon I found a large frame, with mat, made for displaying a diploma. Though I don't have a doctorate to brag about, the frame was on clearance for an amazing $3.75. Seriously. Three dollars and seventy-five cents. Crazy. So naturally I grabbed it and skipped down the aisle to the register.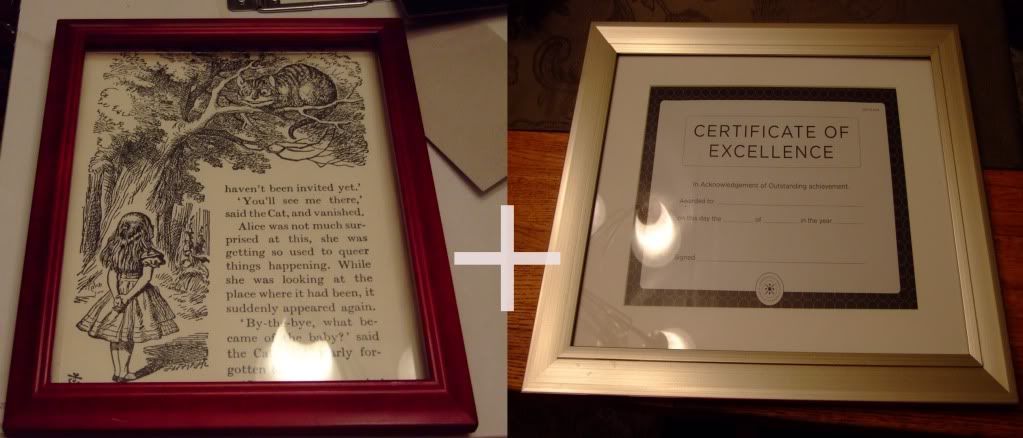 And we get...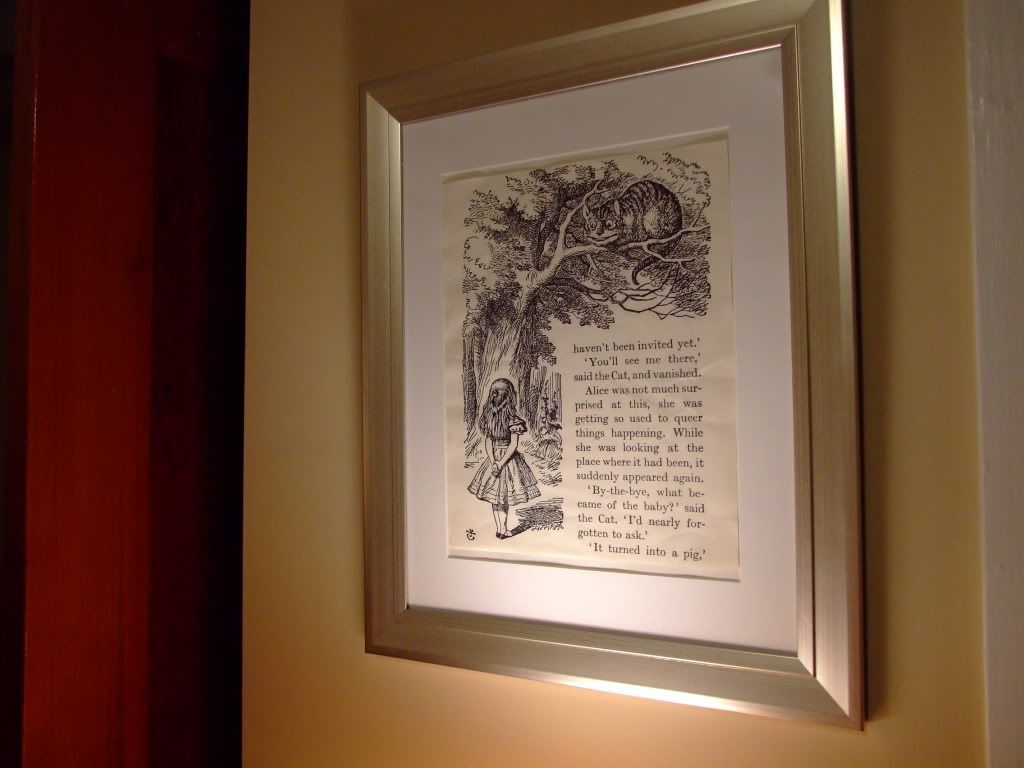 Perfection! The scale of the frame and mat is perfect for the print now. It definitely was deserving of something much more substantial than the bitty frame I'd had it in for so long.
I had no qualms about putting a nail into the living room wall when I realized that I had the
absolute perfect
place to hang it up.
This nook of the living room, next to the closet, has perplexed me since we moved in. But with this print hung up and some Alice-inspired decorations on the table, it's now my favorite part of this room!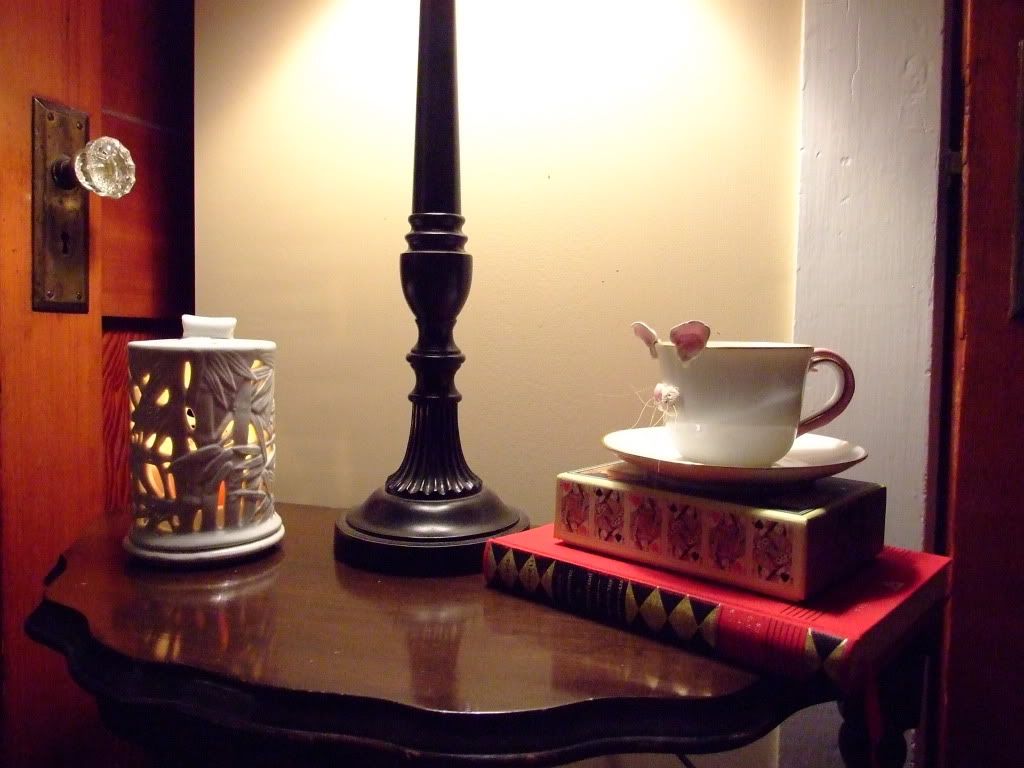 The mouse teacup was generously handmade for me by a friend of my mother's. I love it so much! I know it's not for everyone, but when decor items mean something to you it makes your room feel personal and even more like home. It may seem like a small change to put up one picture, but it's made a huge difference!
In extremely unrelated news, yesterday Branden discovered that the rear windshield of my car had been shot out with a BB gun.
Needless to say, I was pissed. After two days of countless phone calls with my insurance company, glass installers, and a chat with the very nice police sargeant that came by, the windshield has been replaced. Apparently someone had gone around this end of town in the night, and at least a half dozen other cars were shot out too. What a pain in the ass to deal with. Nobody was hurt, though if we ever find out who did it that will likely no longer be the case.