Things have been quiet around the blog here because, unfortunately, up until yesterday there had been
zero
progress at the house.
After discovering the extensive damage to the back of the house, the entire scope of our project changed completely (details and new floor plan
here
). What started as a rebuild and slight layout tweak has since morphed into a large addition and the construction of three new rooms.
Because the project is so different than what we began, the last several weeks have been spent just waiting and clearing paperwork. Really tough when you're as impatient as me! Before we could do any more work, we needed the city building inspector to come out and assess the current damage (to make sure it's safe for us to live here) as well as give us the all-clear on the proposed new construction. We finally got the green light from him last week (yay!) and the new building permit is secured. We were definitely a little worried about that part, and are relieved that there were no stumbling blocks.
However (there's always something!), late last week the zoning inspector came out to also sign off on the addition and we--of course--were faced with an issue. Because of the way that our lot is zoned (one mile from the city's downtown district), all new construction must be 30 feet from the neighboring property line. Our contractor had thought that we needed to be 15 feet from the property line. So, with our current plan, we were going to be too close to the lots behind us by a few feet.
After our contractor met with both the city and state zoning boards (making the trek to Concord to try to argue for some leeway) we unfortunately had to face the reality that we needed to shorten our proposed addition by 4 feet. This means that we can build out an additional 8 feet instead of our intended 12. Stupid zoning laws!
It's definitely a bit of a bummer, but it looks like we'll still be able to add a 3/4 or full bathroom, mudroom/entry, and bonus room with fireplace, just like we'd planned originally. As the sage Tim Gunn would say, we'll just have to make it work!
So with everything cleared, work got back underway yesterday and that horrible, awful concrete patio (the source of all of the water damage) was demolished! Woohoo!!
I was so psyched to see that crap ripped up! The slabs are piled up for now before they'll be hauled off.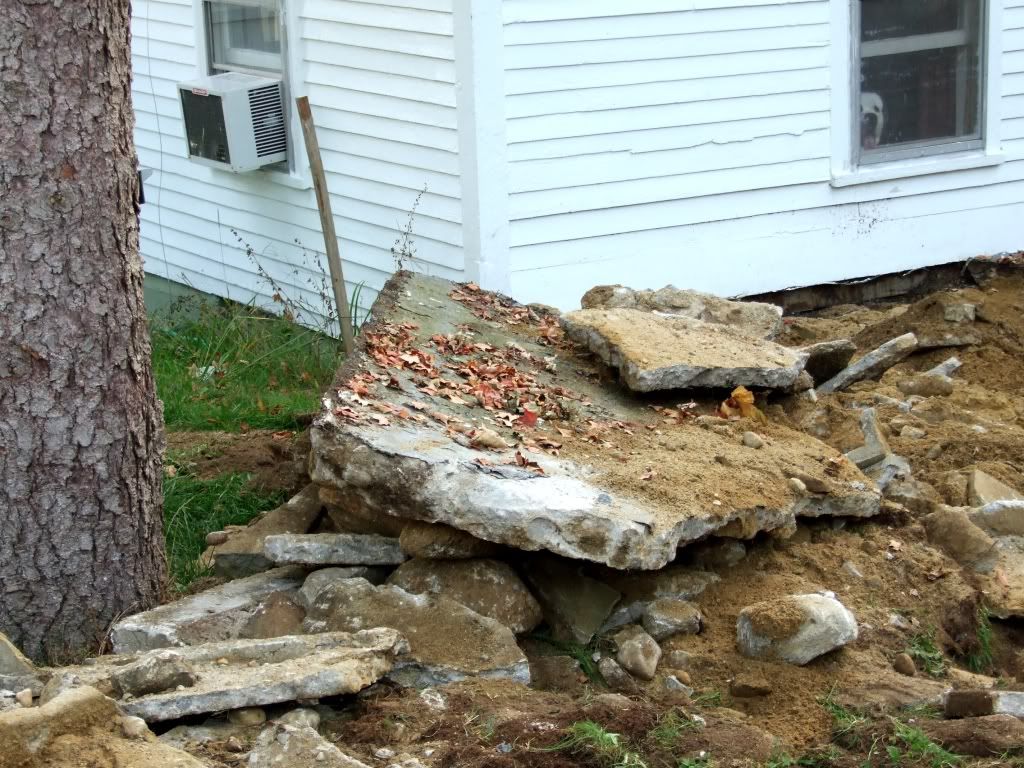 The crew is working on digging out the hole for the foundation today and tomorrow. Then the concrete foundation will be poured on Monday.
The rest of the yard will be dug up and graded as well, so that water drains properly away from the house and we don't have to deal with pooling water ever again.
By the end of next week the foundation should be complete and set, and we won't have quite as much of a destruction zone back here...
Lucy will be extremely happy to have her backyard again. She looks out the window dreaming of the days when she used to be able to romp...