Well, I promised more
total transformation posts
, and here's another one already!
I've been making little tweaks to the master bedroom lately in an effort to make the room feel a little more finished. There's still some more to do before it feels "complete", but I thought this would be a good time to take a look at this room and how far it's come!
As with the rest of the house, this room was covered in layer upon layer of corroding wallpaper, as well as laminate paneling on one wall and those strange mystery panels on the ceiling. Consider this your warning that the pictures you're about to see are kind of terrifying!
Here is the room after we closed on the house in June: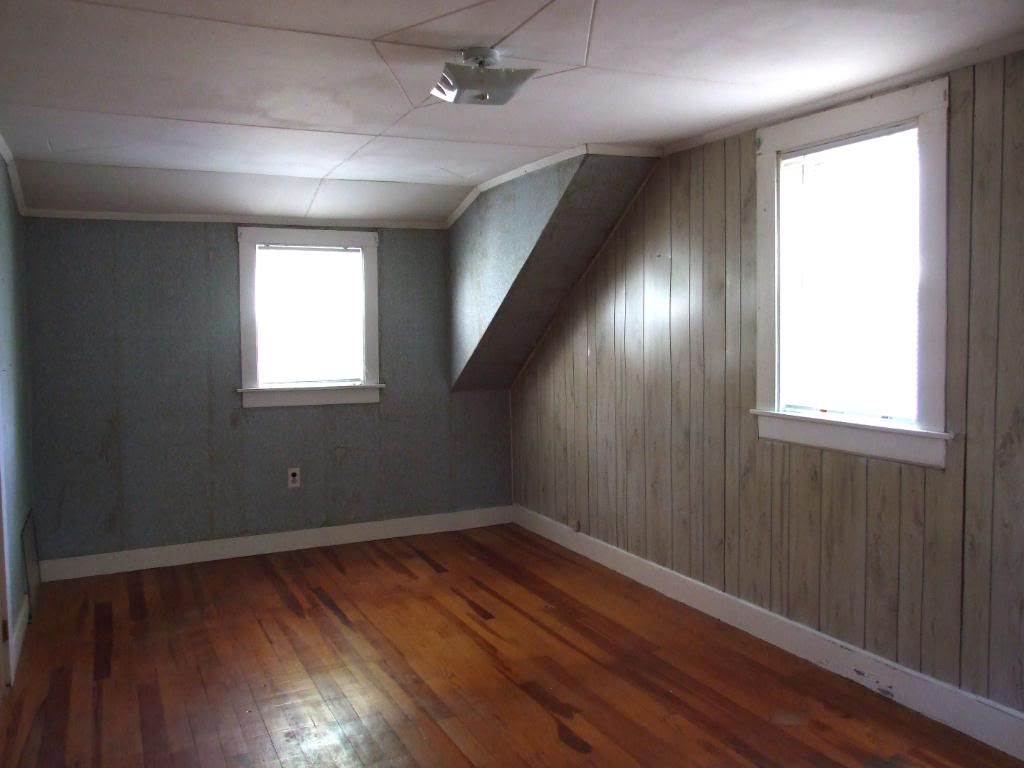 Scaaaary!
(And I don't just mean Branden's wild man beard... though that was scary too.)
The first thing we did was pull down the ceiling panels and put up new, flat sheetrock.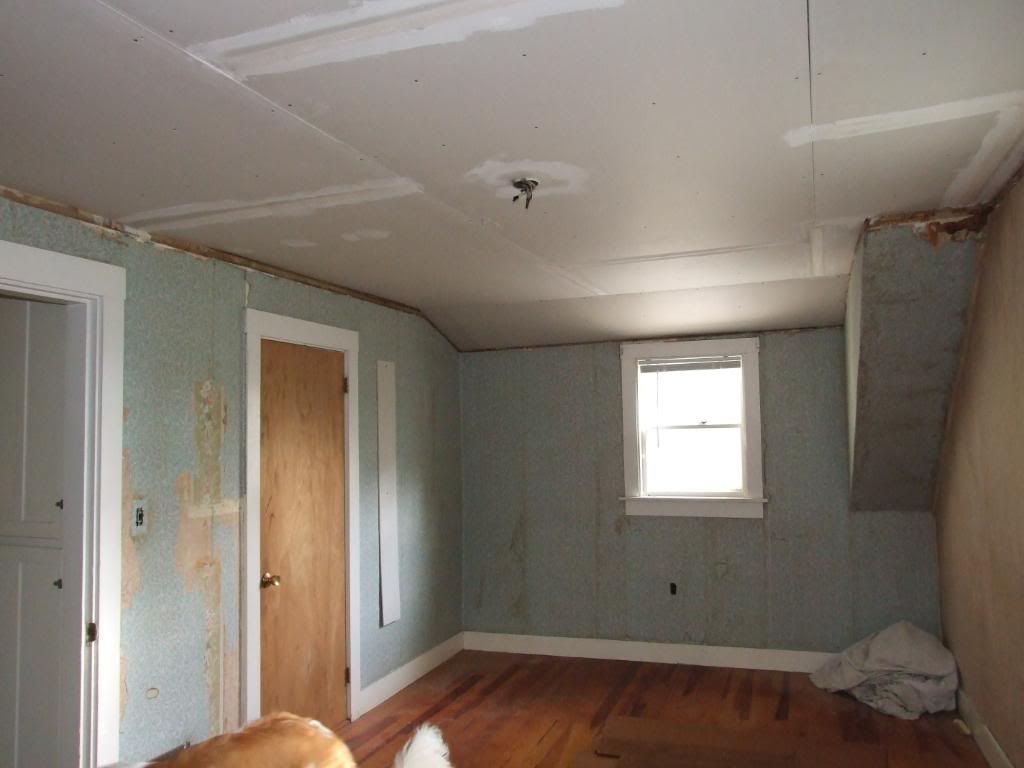 Then the laminate paneling (faux-birch... fancy) was removed.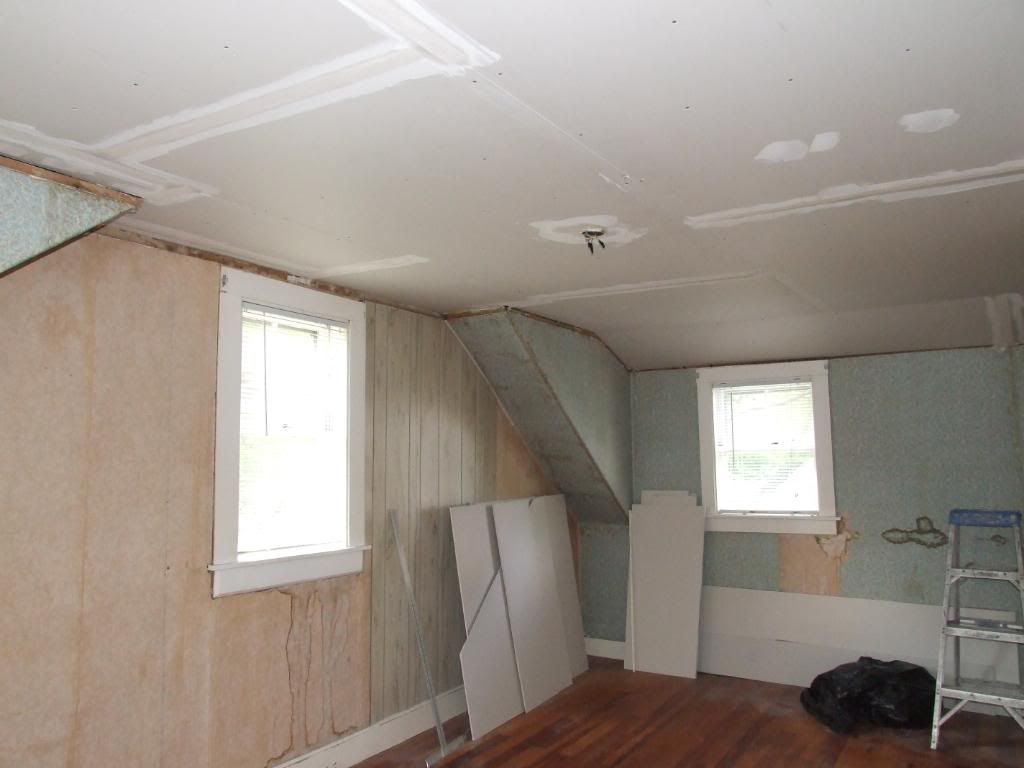 You can see there's still a little bit left on there in the photo above. And of course there was wallpaper underneath that paneling.
Of course.
After the paneling was down, the new drywall started to go up.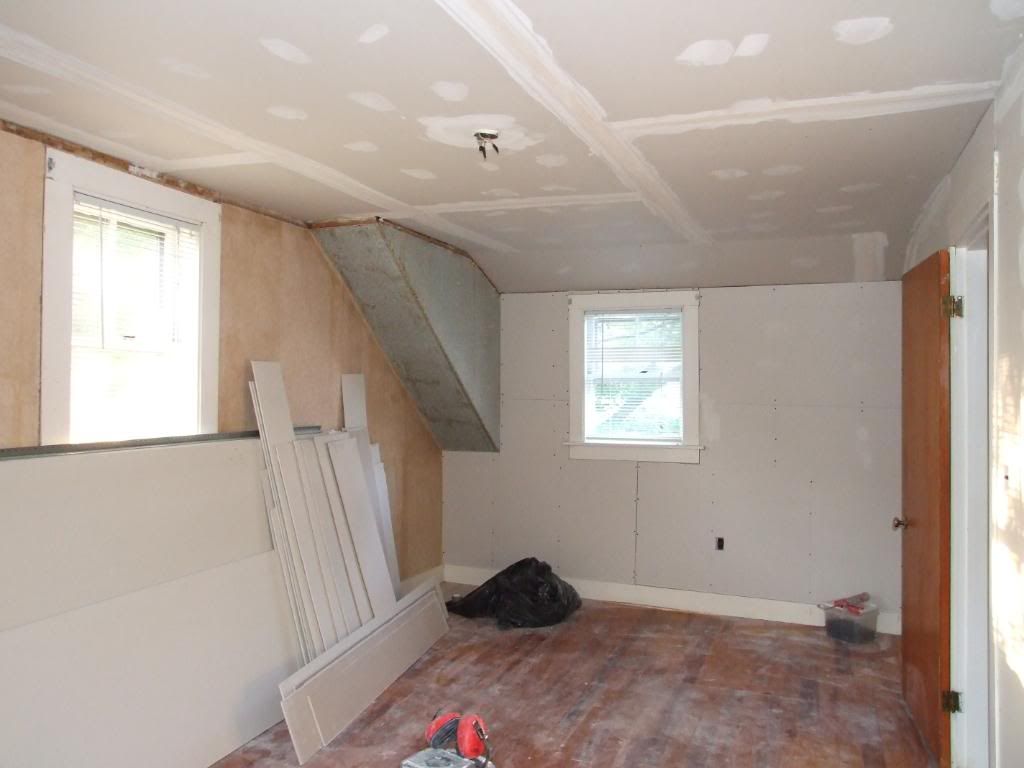 This was the last room finished when we moved in. We actually slept in our guest bedroom for the first week or so after we moved in while our contractor finished this room up. After lots of mudding, sanding, priming, and painting, it was finished and I absolutely love how cozy and inviting this room is now!
Here is what we started with...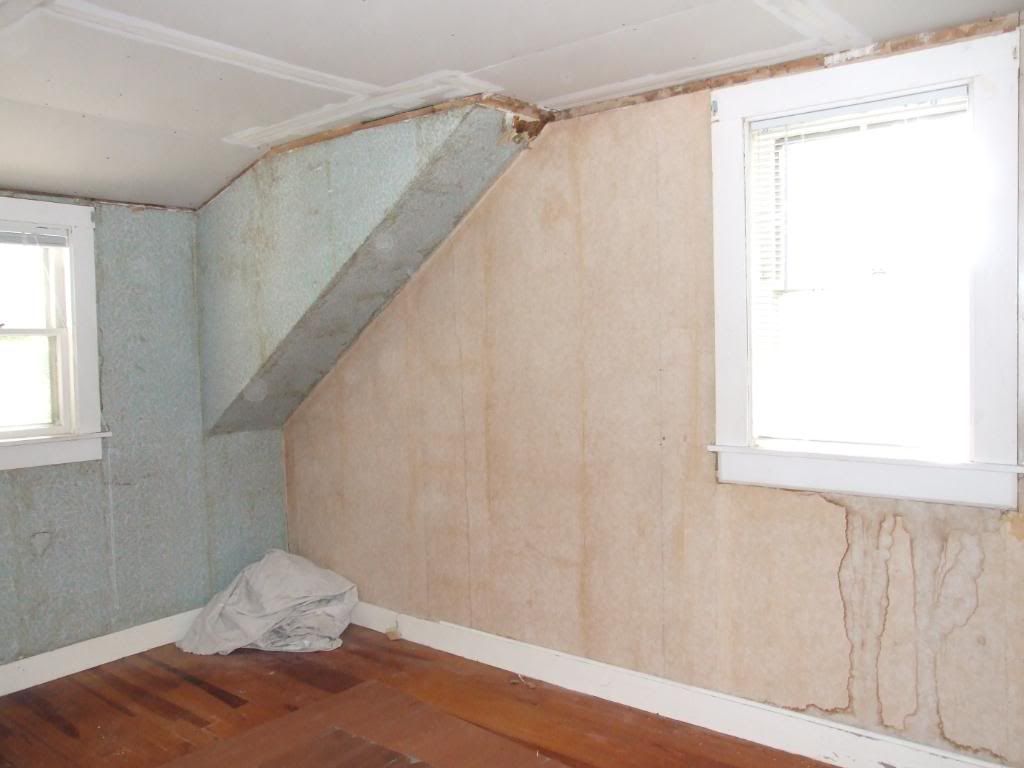 ...and here's the room today: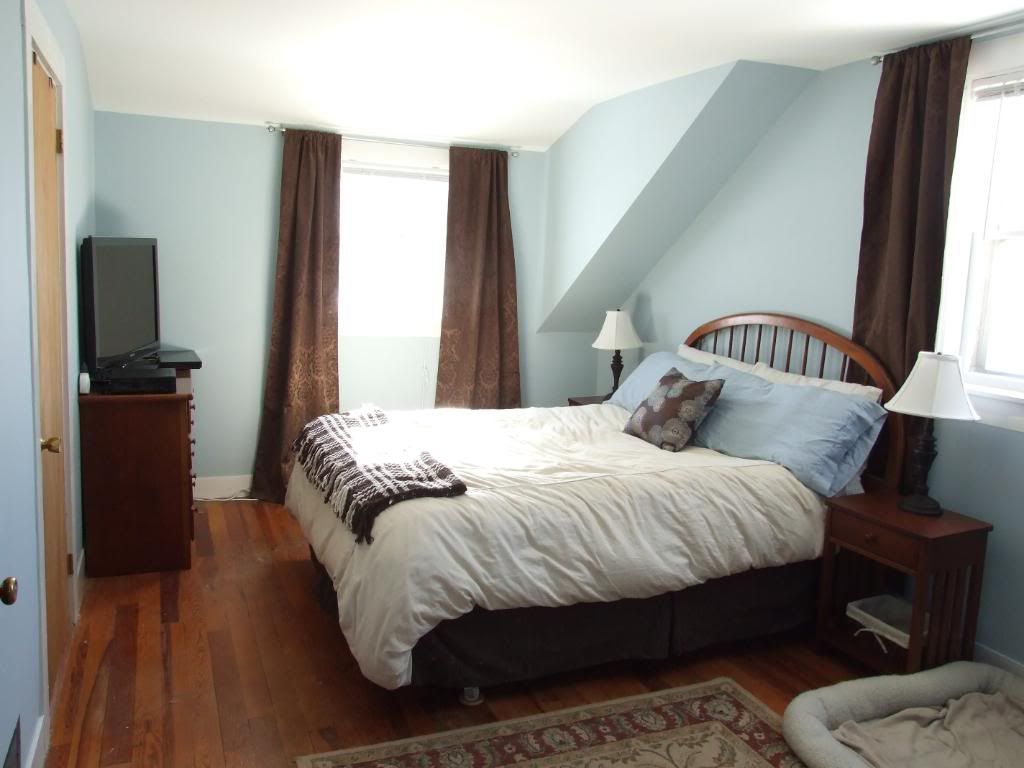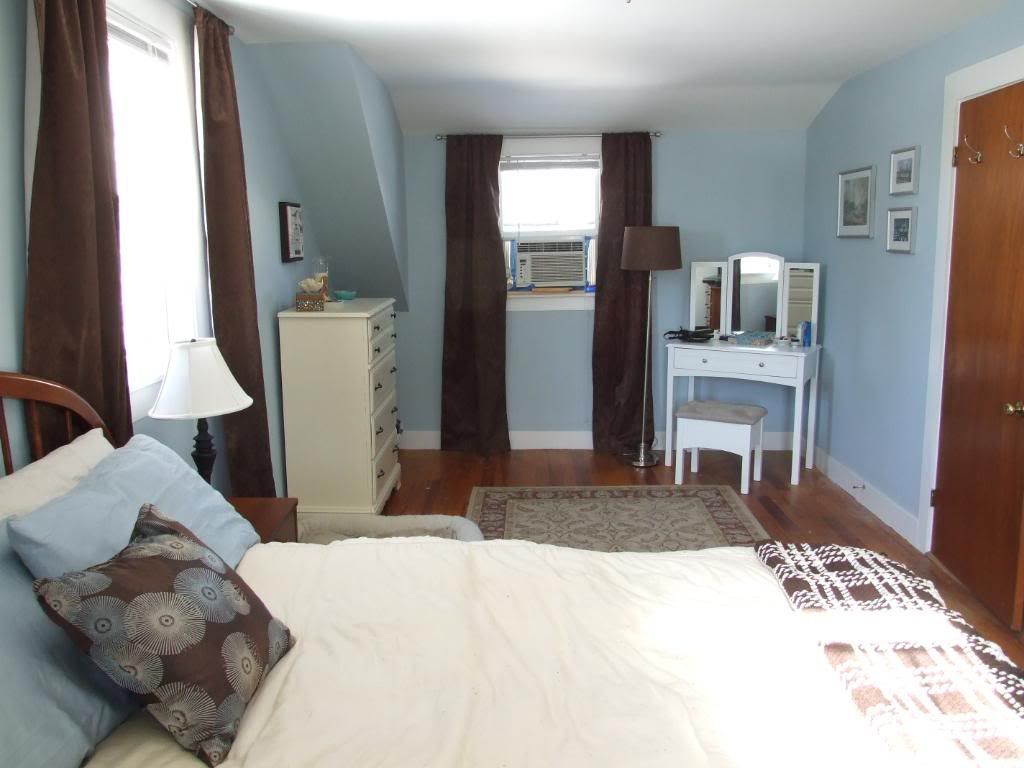 My absolute favorite part of the room is my little vanity nook...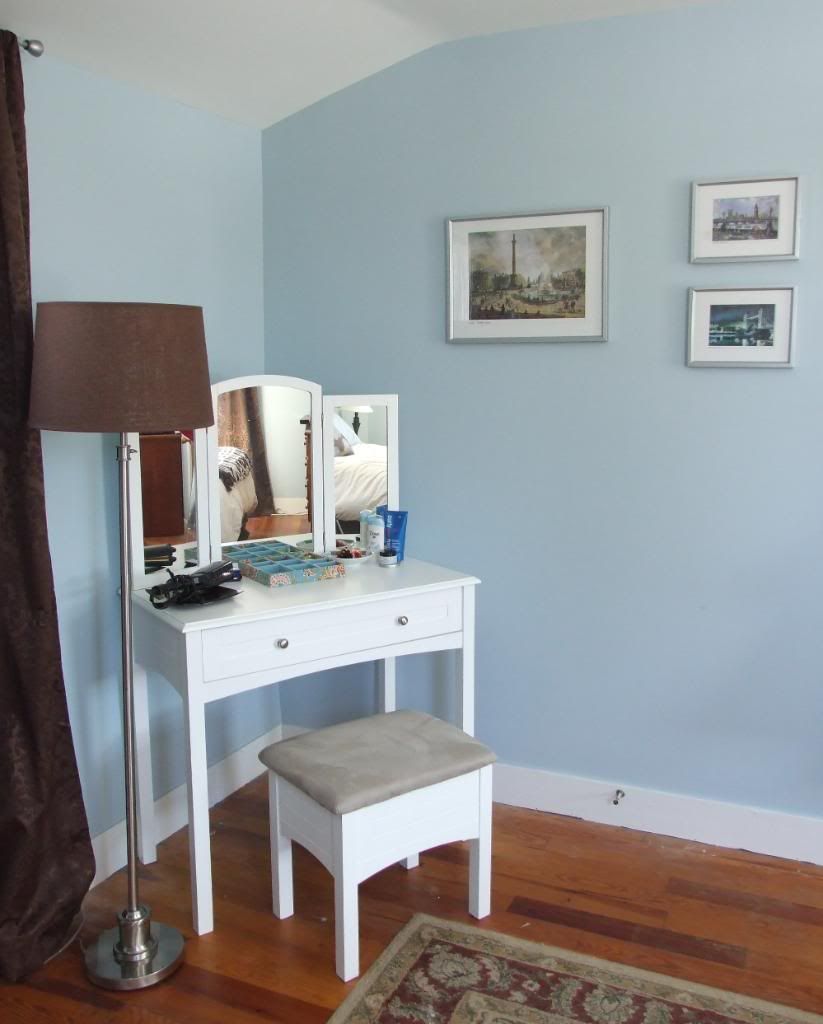 The prints on the wall are from London. When I lived there, there was a shop outside of my tube station (Baker Street... home of Sherlock Holmes!) that sold these prints of all different London landmarks. They were completely touristy, but on one of my last days there I decided to buy a few to bring home. Love them.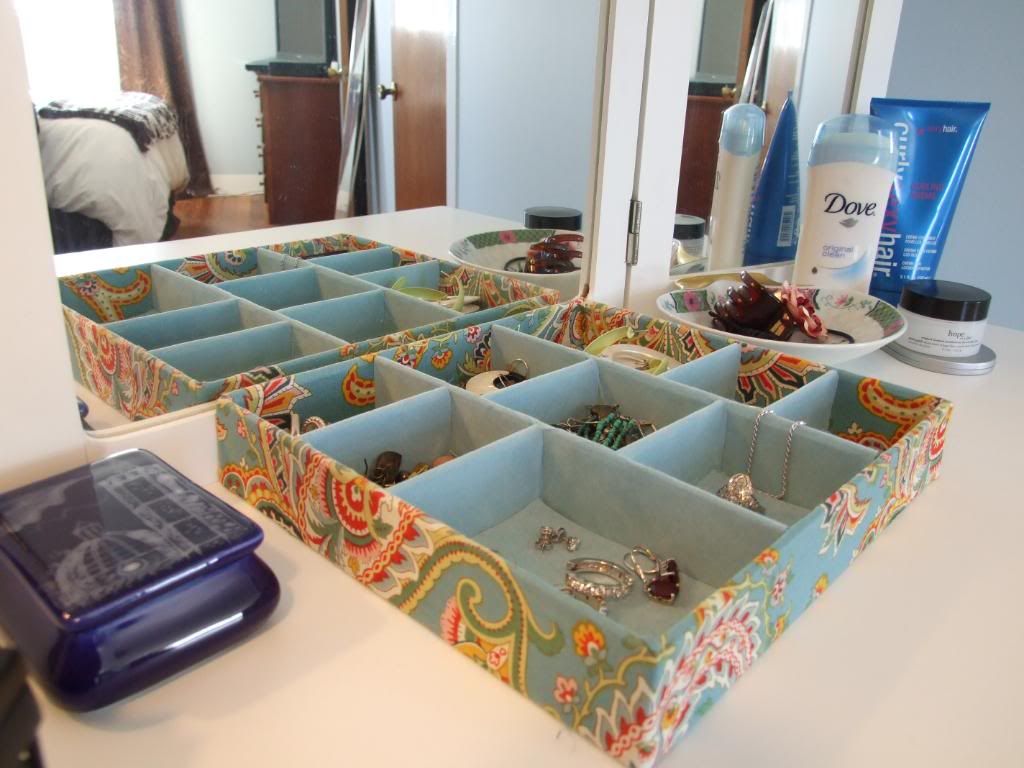 My vanity table has all of my jewels
(having a jeweler for a boyfriend is a lovely thing...)
and some keepsakes, like the blue box that my sister brought me home from Venice and a shell-shaped dish from my grandmother. I absolutely love sitting here each morning--it's nice to feel pampered in your own home!
Across from the vanity is this dresser that I've had since I was very little.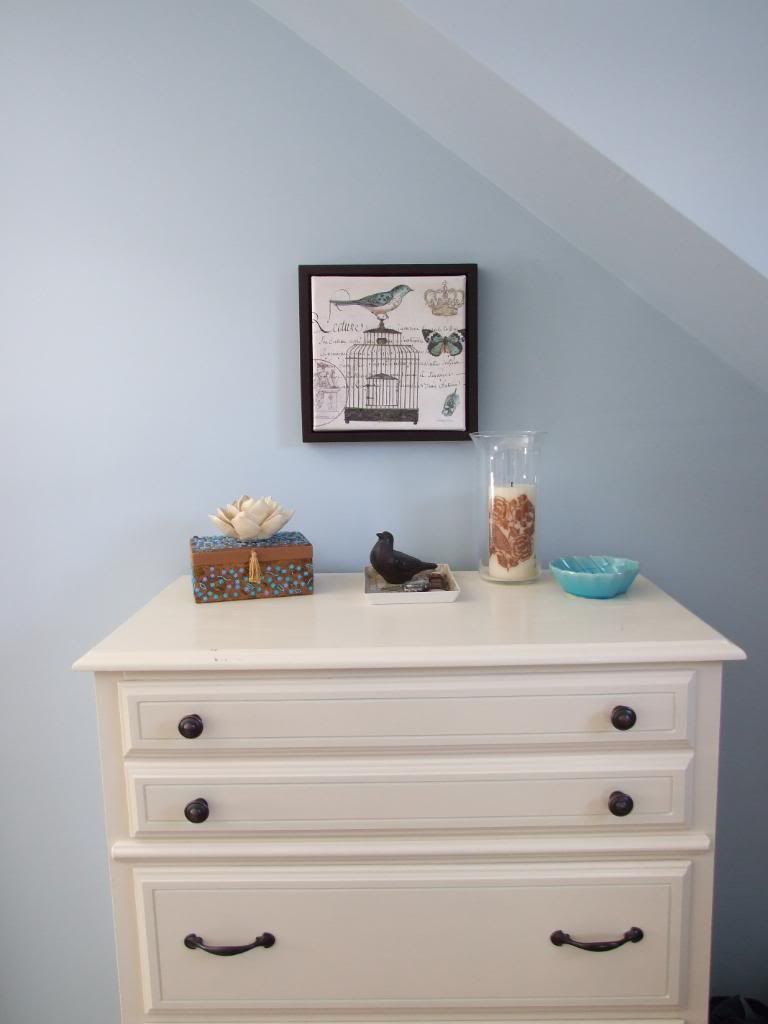 It used to be an ivory color with gold details (very 1980s), and was also
covered
in stickers. Gotta love little kids. When I was in college I spray painted it (very poorly) purple with silver drawers. Now it's gotten yet another makeover, with cream paint and new, simple hardware!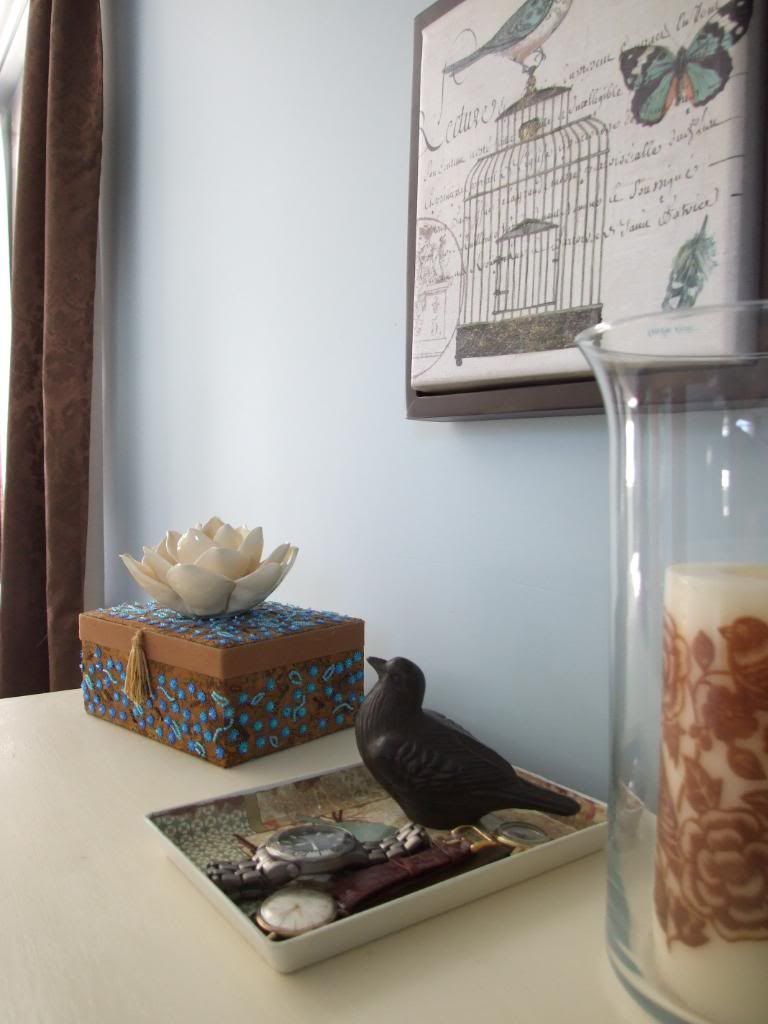 There's a bit of a bird theme going on here, but I like it! I picked up this little tray for Branden to keep his watches in one safe place, since they have a tendency to wind up all around the house.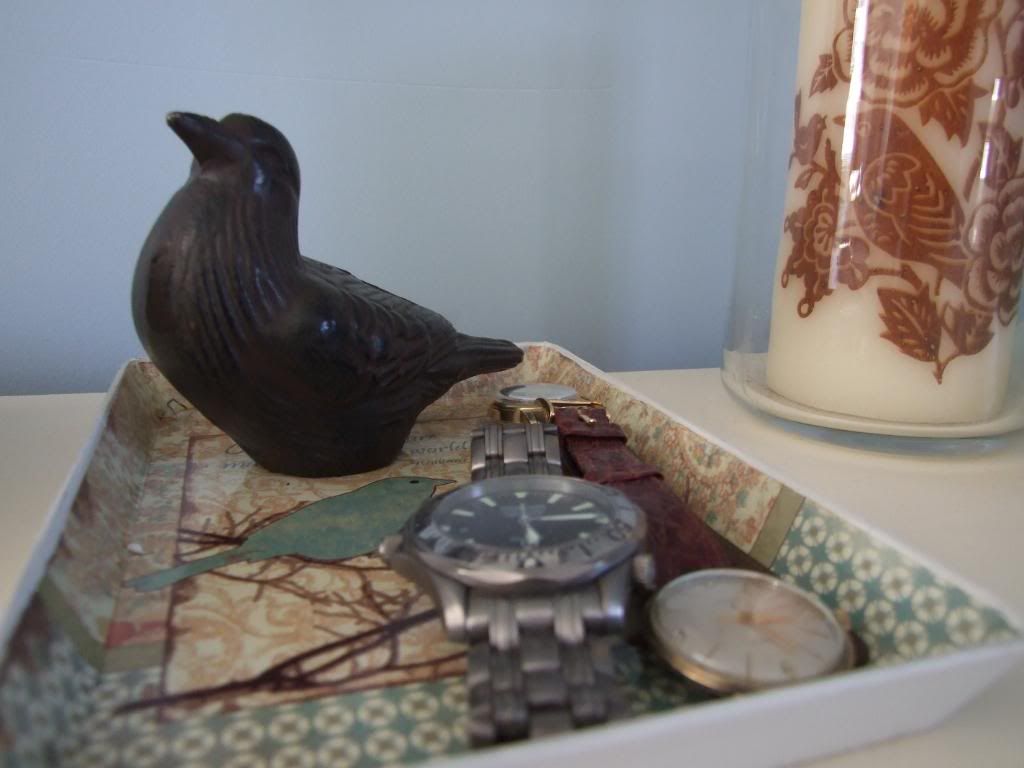 Now that you've seen the details, let's take another step back and appreciate this room's total transformation!
Before: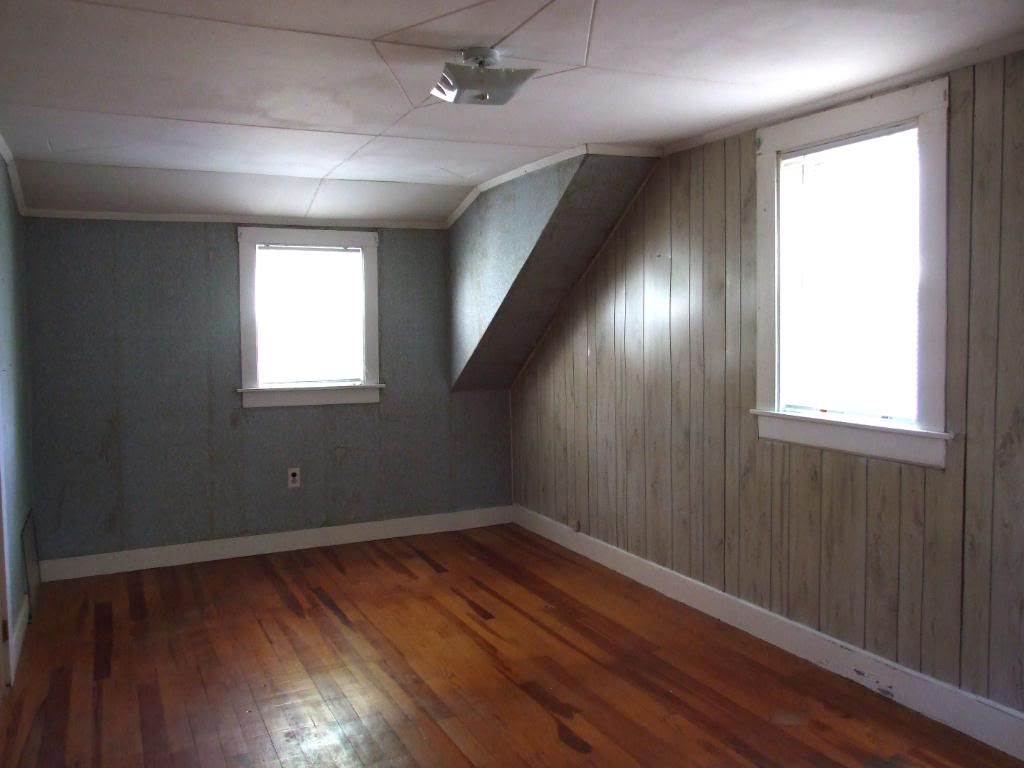 After: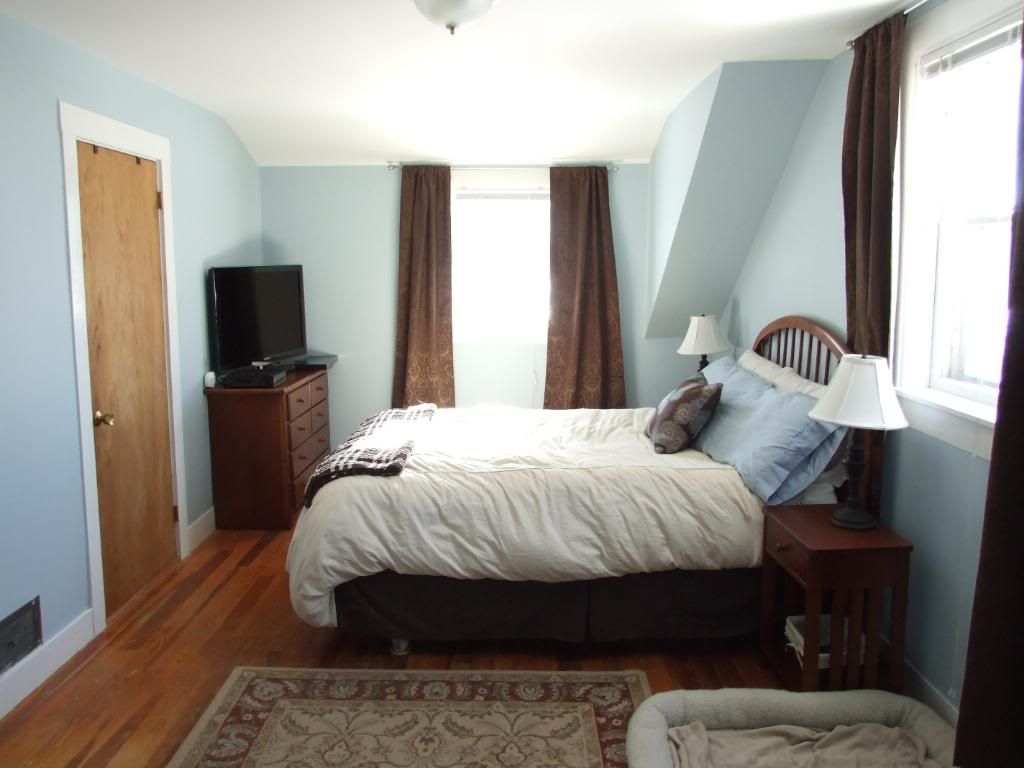 Before:
After: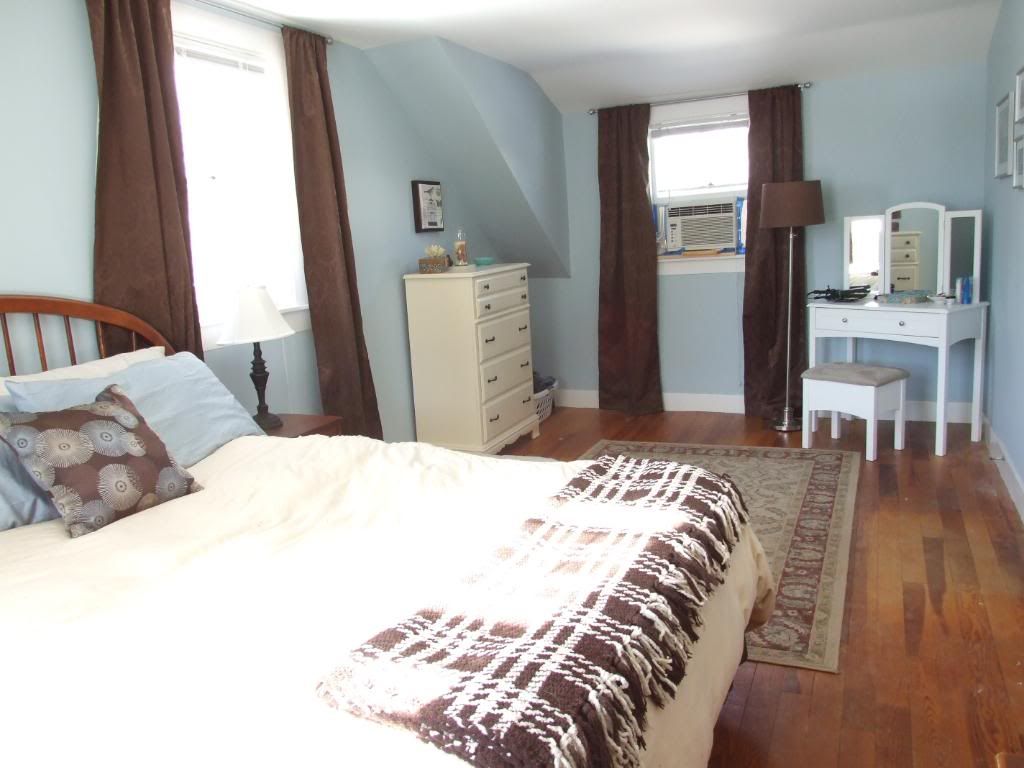 (Please try to ignore the air conditioner... yes, we left it in all winter. Yes, we were too busy/lazy to take it out. If you read this blog regularly you see all the stuff we've got going on, so cut us a break on that one pleaseandthankyou!)
Way back when we closed on the house, I had
posted this
inspiration picture for what I had in mind for the room:
Obviously our bedroom ended up very different than this, but I did stick with the original color scheme that I had planned back then.
Here is another view, looking into the bedroom from the hallway.
Before: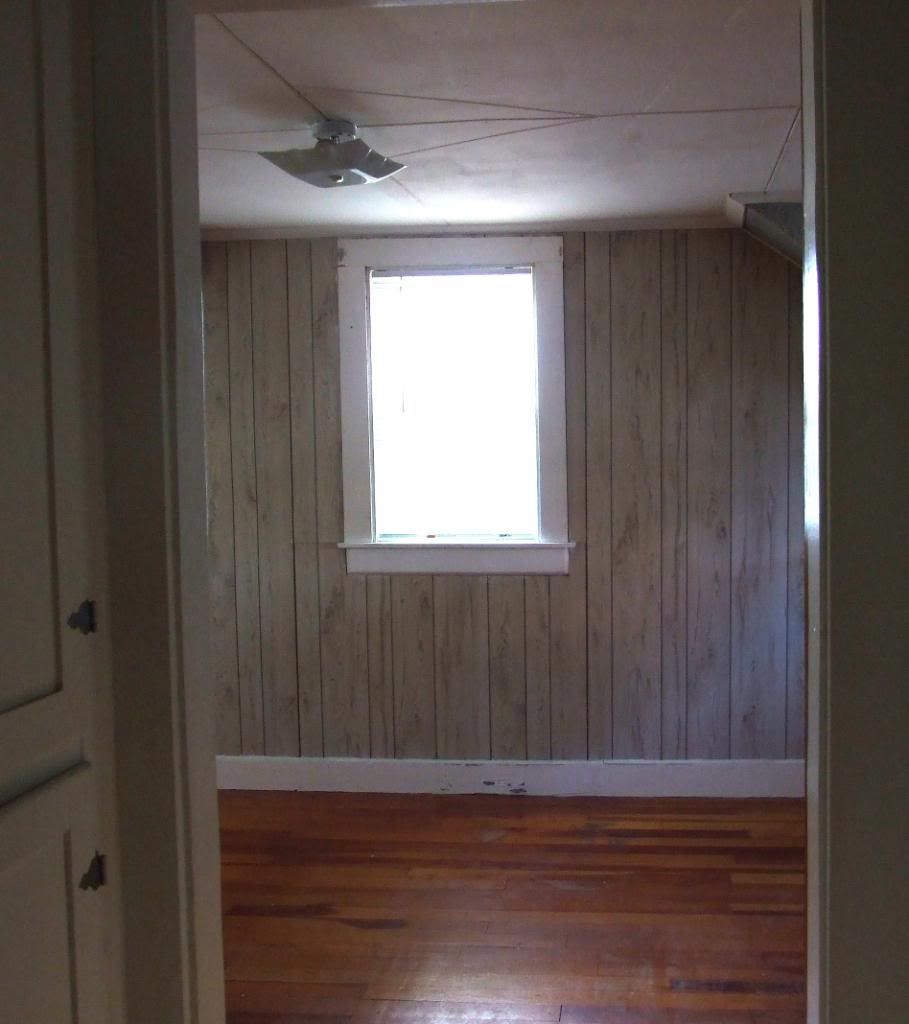 After: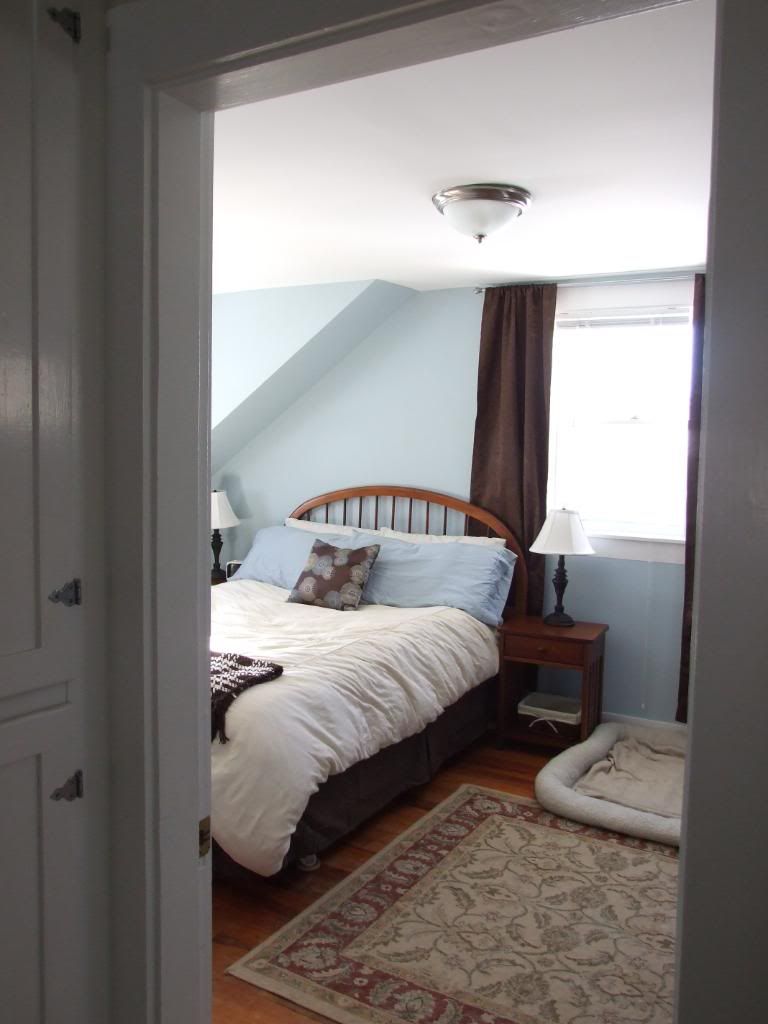 Pretty amazing, no?? It makes me so happy to see how far we've come since we closed in June! I just love looking at the difference between those hideous ceiling panels with weird designs, and the clean and modern ceiling we've got going on in there now. Happy sigh.
There are still some tweaks to be made, like replacing that area rug for example. I'm on the hunt for something that works and that is affordable (seriously, whyyy are rugs
so
expensive??), and I'll keep you all updated on that venture!
So what do you think? Pretty good transformation, right? I'll work on another total transformation post for another room soon!