As I hinted earlier, we solved the dilemma of where to hang our Christmas stockings. I know, this is a number one priority that needs immediate attention, given that it is not even Halloween yet. Shut it.
We had been puzzling over what to do with the large empty space on the wall above our living room television. It was so huge, we knew we needed something large enough to fill it up. After looking around for some large, substantial artwork, we realized that wasn't in our budget. (One antique gallery we went to had some
amazing
19th century maritime oil paintings, so we will continue to dream of winning the lottery and bringing home one of those...)
We found some component shelving at Bed, Bath, and Beyond and picked up a couple of sets to play around with. As we
don't have a fireplace mantle
, I knew I wanted to create a long shelf above the tv. The shelves we bought came with some handy paper templates, so we stuck them up on the wall and played around with different configurations.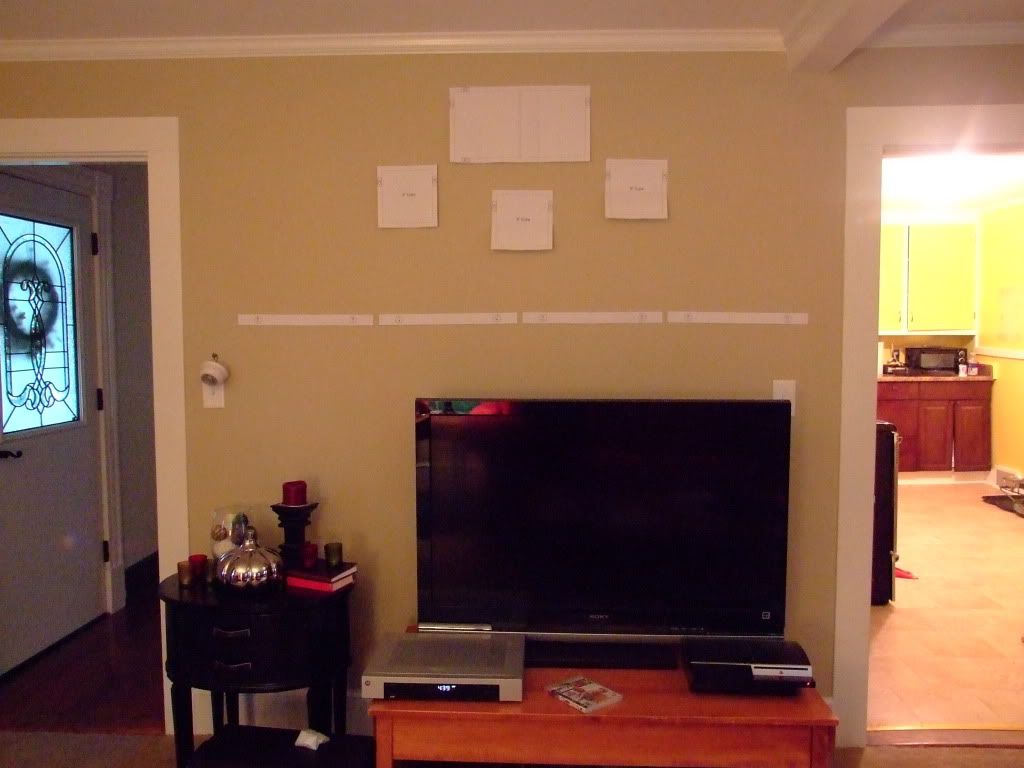 Happy with the final set up, Branden drilled the holes for the four shelves along the bottom. It wasn't until the holes were drilled and a few of the anchors were hammered in, that we realized that the templates did not actually match the shelves exactly. So many of the holes we'd drilled were off by a good amount.
So, we threw out the templates in a rage, dug out the spackle from the basement, patched up the holes, and let everything dry overnight. The next day, refreshed, we tackled it again, this time measuring the brackets on each individual shelves.
It's funny the way that Branden approaches these projects: so methodically and mathematically. The total opposite of my "just eyeball it" method. He double and triple checks each measurement before doing anything, calculates the exact distances from each wall to find the perfect center, and makes sure that everything is exactly level. With this kind of project, being exact is a must! Our laser level (found on clearance at WalMart for less than15 bucks!) was the saving grace though. So helpful! I can't believe we hadn't had one before this.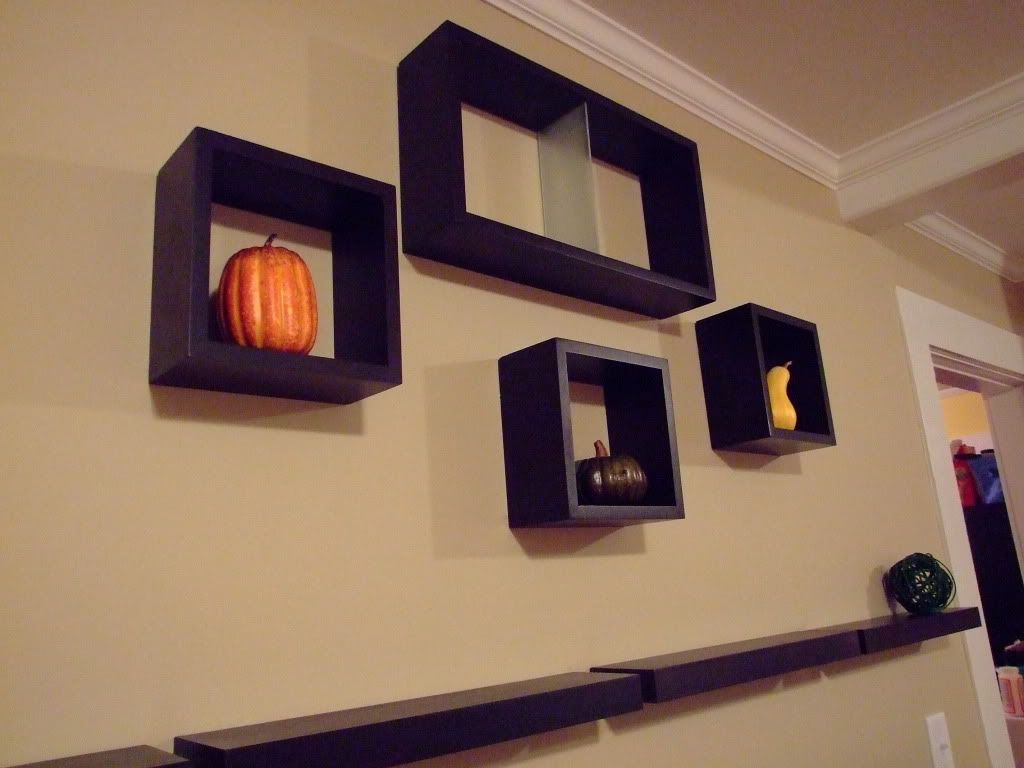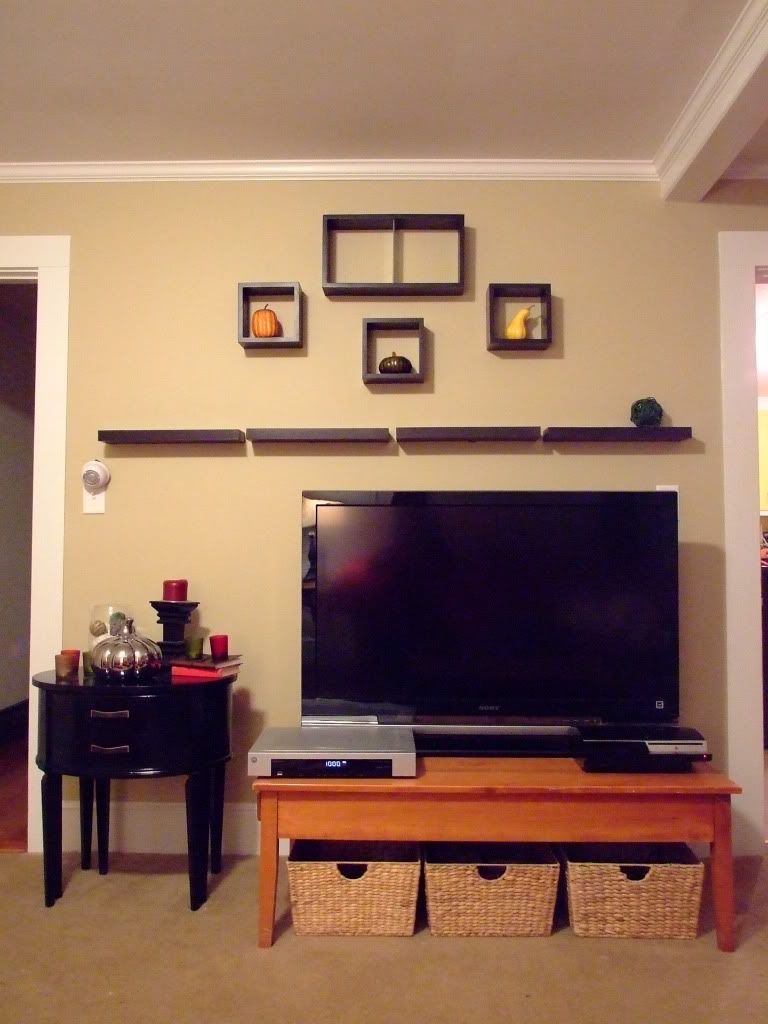 And because you know how much I love a good before and after: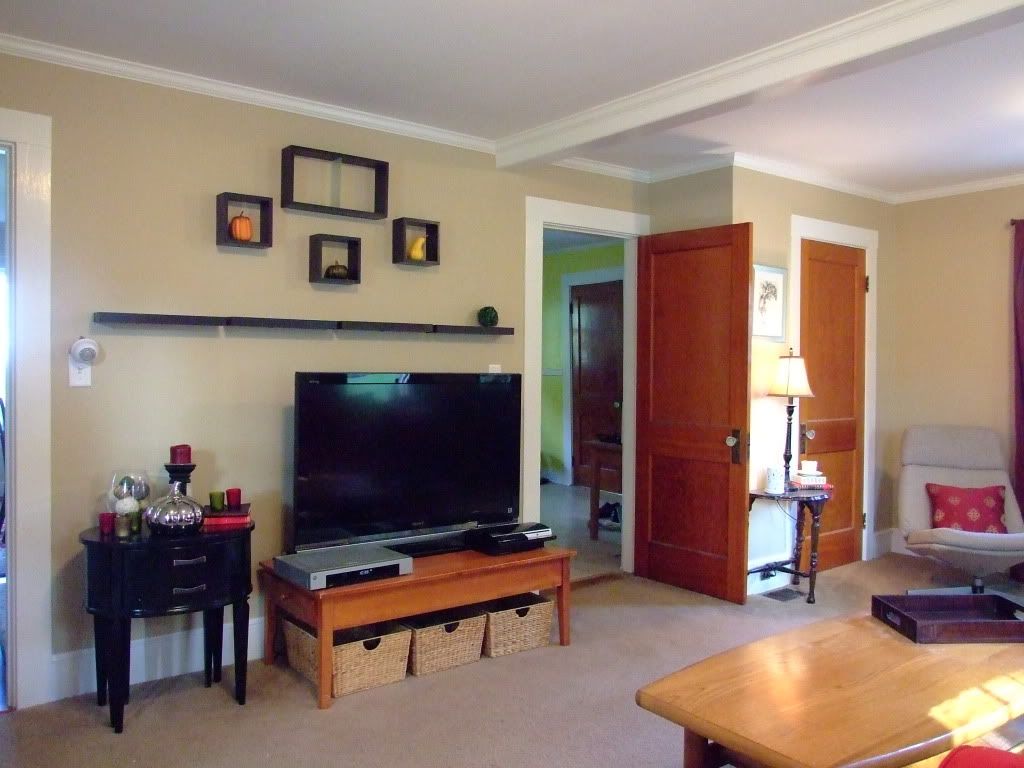 It's looking pretty blah right now. Once I can get some accessories up there, I think it will all come together really nicely.
Today Branden's dad and brother are coming to help dig post holes for the fence. It's a huge job, but I can't wait to have the yard all fenced in for Lucy! I'll have lots of pictures to share soon.
In the meantime, here's proof that it's officially, definitely, absolutely fall: